The My sCool Server is loaded with the some great features, all packed into a potent appliance, in a never seen before avatar. We promise to keep you spell-bound with our innovation and shall keep on adding to this list. So keep an eye on this space.
Presenting some of the key features of the My sCool Server through these short videos.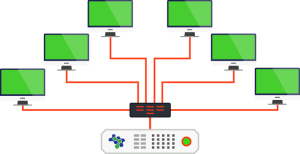 The My sCool Server is a ready to use hardware appliance that you can plug into your network and instantaneously boot all other computers, including low spec ones, to work with a fully functional desktop and applications, ideal for teaching and learning in almost any computer laboratory environment. You get all this and more, without any installation or configuration of any kind or input from anyone.
Ready to Use Curriculum Software
The pre-installed, ready-to-use curriculum conforming software on the My sCool Server ensures uniform and easy access to the tools for all students and teachers alike without being hassled with the need to install and maintain individual systems. This server bundles everything that is needed by the teachers and students to teach and learn and yet it is open to further customization.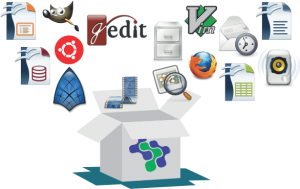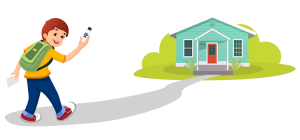 The My sCool Server facilitates extremely easy creation of a bootable Linux USB at a click. It enables a student to practice ones Linux lessons at home, thus helping to explore further possibilities within the vast and open world of Linux. Though there is no need to install the Linux OS on the home computer, one can install from the same USB once convinced and wants to dig deep into the world of open source. 
Perfect Teacher Assistant
21st century children and curriculum deserve matching tools. World-renowned monitoring and guidance tool Epoptes has been prepackaged to assist teachers who can now monitor, screen broadcast, guide students and give equal attention to all from their own desk. Computer laboratories can now also be laid out with more computers, thus efficiently utilizing the limited classroom area. This also makes a 1:1 student:system ratio achievable and manageable.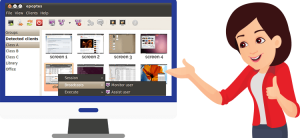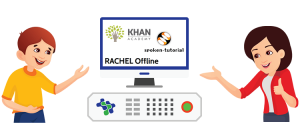 Educational Content Available Offline
As a bonus, it is optionally bundled with some of the world's best audio-visual educational content spanning virtually all subjects from the school curriculum, accessible without the internet. It houses a robust Learning Management System, Moodle helping teachers in lesson planning with digital content as well as conduct online assessments. It facilitates self-paced, blended learning as well as inverted classroom teaching methodologies.
Multi-lingual Desktop and Content
No one must be left out from reaping the benefits of technology and digitalisation. Each My sCool Server is shipped with community driven multi-lingual support for up to three languages – English, Hindi and a regional language. The desktop interface and several pre-loaded open educational resources are available in the multiple languages. Let us all preserve our diversity while moving ahead to bridge the digital divide.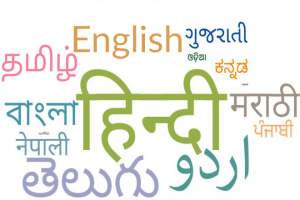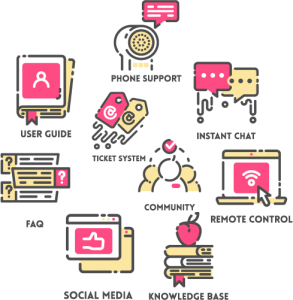 We respect your individuality and hence offer multiple online and offline support options. Help and support is available via an online and offline user-guide in multiple languages, on-call remote support, instant chat, a rich online knowledge-base, FAQs built from user interactions, online ticketing system, real-time remote desktop support, multiple social media channels and the most powerful being – the rich Linux user community.
Environment and Pocket Friendly Technology
Adding the My sCool Server to your computer laboratory extends life of your existing hardware and reduces power consumption. By network booting of disk-less workstations, it makes client system hard-disks redundant, eventually driving down the total cost of ownership. With reduced reasons for infrastructure disruptions, there is significantly lessened need for human intervention. Hence it is a highly environment friendly and economically beneficial technology.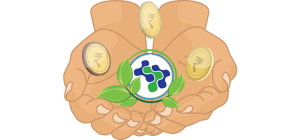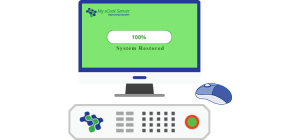 Built in support for both internal as well as external media based recovery images gives you the peace of mind to safeguard against unforeseen system failures. Recovery images may be created for factory restore as well as any point in time system state.
Strong Product Foundation
It is built atop proven technologies such as Ubuntu LTS and the Linux Terminal Server Project, the same components that have empowered numerous schools the world over, all glued together in a perfect fit by the team at Recherche. A solid foundation yet is agile enough to adapt to evolving needs.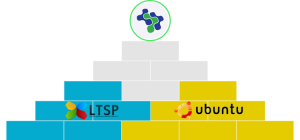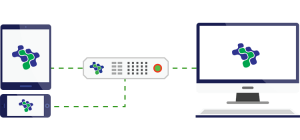 Supports remote sessions from all well known devices and operating systems enabling multi-tasking. Also systems not on the same network and hence unable to boot from the server can still remote access the server and get work done.