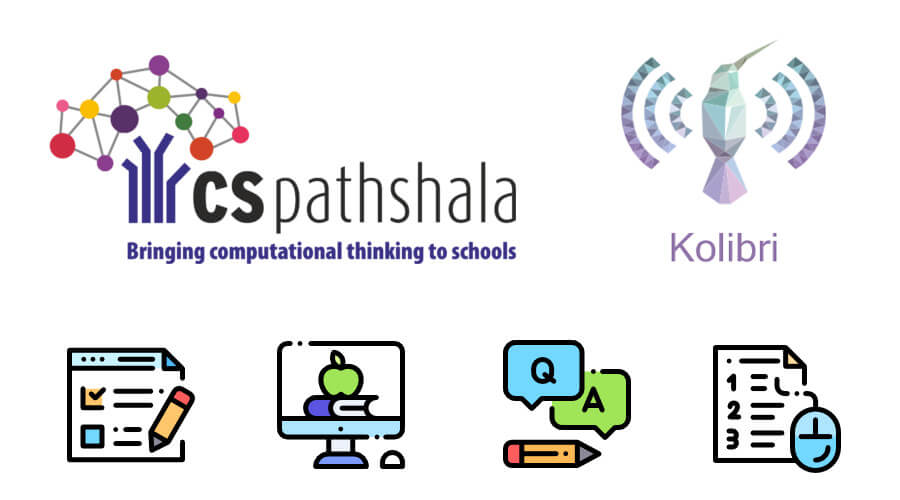 The CSpathshala curriculum has been released as a set of Kolibri channels. For the uninitiated, CSpathshala is an Association for Computing Machinery India (ACM India) initiative to bring a modern computing curriculum to Indian schools.
And with an offline-first approach, Kolibri makes high quality education technology available in low-resource communities such as rural schools, refugee camps, orphanages, non-formal school systems, and prison systems.
It is specially designed to provide offline access to a curated and openly licensed educational content library. The libraries are designed to support a well-rounded curriculum and are available in dozens of languages. It includes both formal educational materials, such as lessons and assessments, and exploratory materials, such as books, games, and simulations. (Source: Kolibri website)
The CSpathshala curriculum content comprises of lesson plans, lessons and worksheets. They were originally published as .pptx and .docx files. Now they have also been made available in web (HTML5) and PDF formats by the My sCool Server team with valuable inputs from the CSpathshala volunteers. Eventually, the content has been published as Kolibri channels, one for each language – English, Gujarati, Hindi and Marathi.
New possibilities
While the original formats (.docx and .pptx) give teachers the flexibility to adapt the content as per their own needs, the new formats open up a lot more possibilities. We hope that this shall increase its outreach and ease its adoption via Kolibri in ways previously unthought of. These can now be easily taken offline and integrated into lesson plans via a web browser on any computing device where Kolibri is installed.
Those familiar with Kolibri may access the channels via the tokens given below or via the public Kolibri repository –
| | |
| --- | --- |
| Language | Kolibri Channel Token |
| English | lirub-laruk |
| Gujarati | lopop-gufap |
| Hindi | zapok-dofil |
| Marathi | fakul-fohik |
For the others, there is a small but easy and highly rewarding learning curve, i.e. to develop familiarity with Kolibri.
The My sCool Server has Kolibri and all the software, referenced in the CSpathshala curriculum, pre-integrated. In a computer lab powered by the MSS, students shall have instantaneous and consistent access to the tools without any intervention required by a teacher. Thus, with the My sCool Server, adopting the CSpathshala curriculum for a school becomes all the more easy.
Building jetpacks
The above is just a beginning. So what next? With a focus on learning outcomes and to ease the assessment process, digitalisation of the worksheets is underway. This shall also make the process paperless where sufficient access to computers or handheld devices is available. Perseus from Khan Academy and the awesome H5P are the technologies being used.
We at Recherche, regularly undertake such initiatives to make quality open educational resources available offline. We believe that this has manifold benefits for the My sCool Server adopters as well as others. It eases the burden of our teachers who are in search of quality educational content. It helps the content curators reach the intended audience. Eventually it benefits our children by exposing them to a varied set of learning experiences and topics.
We welcome volunteers to help us with these initiatives and they shall be duly credited. Those interested, please feel free to contact us.